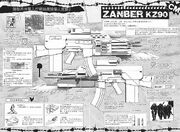 The ZANBER KZ90 CM ("CM" is an acronym for "commercial message" in Japanese) is the fifth in a series of tech notes published as supplemental material in Last Order. It appears in the eleventh volume, Angel Cake, and provides information on the ZANBER KZ90 used by Zazie. This is the most detailed description for any weapon to appear in the series.
Descriptions of equipped components, features, and capabilities
Other functions
Optional add-ons for Gold Club Members
Ad blocker interference detected!
Wikia is a free-to-use site that makes money from advertising. We have a modified experience for viewers using ad blockers

Wikia is not accessible if you've made further modifications. Remove the custom ad blocker rule(s) and the page will load as expected.